If you'd like to follow/subscribe what I post here, I have a RSS feed which you can add to your favorite feed reader.
If you've never used a rss feed reader before, a friendly web-based one that can be used is feedly.  Feed readers allow you subscribe to any number of feeds from places like blogs and news sites and receive updates when new content is posted.
You can subscribe via feedly here: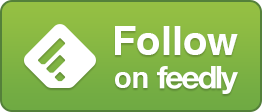 If feedly isn't your thing, there are multitudes of online and offline/desktop rss feed-readers out there.
RSS Feed here:
If like the noise that is twitter:
—
Other places you can subscribe to content:
Youtube: